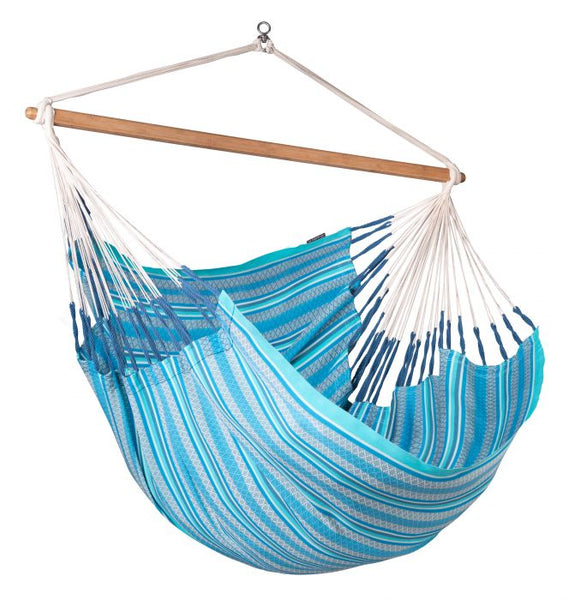 HABANA Organic Cotton Hammock Chair Regular/Comfort Size AZURE| La Siesta
The La Siesta Comfort size Hammock Chairs have a fabric surface of 5' 11'' in length, offer optimum seating and reclining comfort in a compact space.  Our Comfort size hammock typically hold a single adult up to a weight limit of 285 pounds.  Our Habana line is made from Organic cotton (GOTS) which is fair to humans, fair to nature: Organic cotton is not only an environmentally friendly alternative to conventional cotton, it is also as soft to the touch and as easy to clean. 
 GOTS-certified means that our product has received the organic seal of the globally renowned Global Organic Textile Standard (GOTS) stands for strict environmental and social criteria, which are applied throughout the manufacturing chain. 
The Spreader bar is made of high-quality bamboo: particularly robust and attractive. Thanks to its production in high-quality plate technology, it is exceptionally weatherproof and has a pleasantly smooth surface.  By doubling the weft threads, the selvage of the hammock itself, is reinforced, making it exceptionally tearproof.  Due to a special, integrated safety swivel you can turn your chair in every direction and to every degree without over-winding the suspension cords.