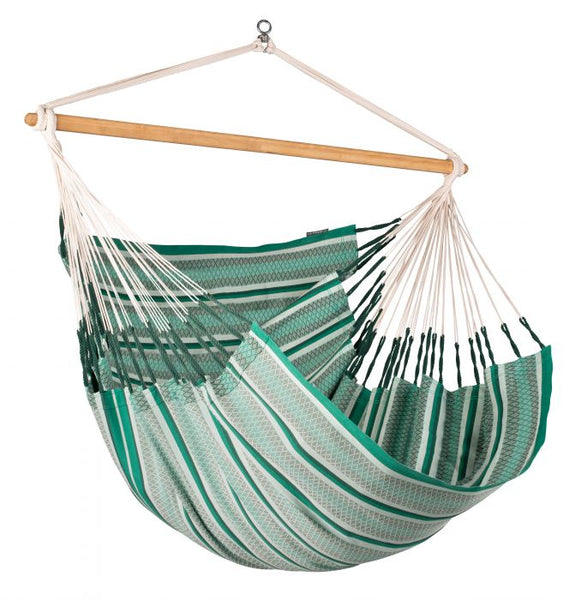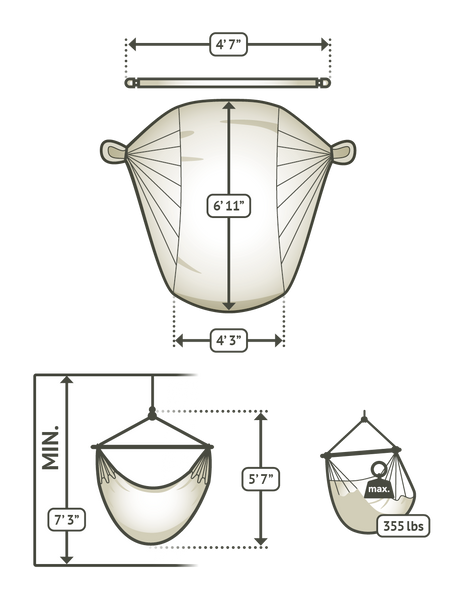 La Siesta Hammock Chair Lounger Kingsize HABANA Agave Organic Cotton
Wonderfully spacious and cozy, for a feeling of weightlessness – hammock chair lounger HABANA Agave,  made of organic cotton.
It is extra-large, enabling you to not only sit comfortably, but also recline.  The fabric, made from soft organic cotton, is wonderfully soft to the touch and yet easy to clean. The HABANA lounger is certified by GOTS to be fair to both human and nature.
The large number of cords is typical for our Colombian hammock chairs.  They ensure optimal weight distribution and incredible comfort, as well as durability. Reinforced edges make the material extremely tear-resistant. The integrated safety swivel guarantees safe 360° rotation. The spreader bar, made of top-grade bamboo, is not only an eye-catcher,  it is also extremely sturdy and weatherproof. In addition, the wood comes from responsibly managed forests(FSC ®).
Hammock Chair Lounger for 1-2 people - 355 pound weight capacity

LA SIESTA's softest weaving technique; Organic cotton (GOTS certified): fair to humans, fair to nature, supreme softness

Spreader bar made of top-grade bamboo from responsible forestry (FSC® certified)

Integrated 360° safety swivel ensures safe rotating without over-winding the suspension cords

Machine-washable - remove the spreader bar and wash on cold gentle cycle